Miami Senior High School
Class of 1966
Miami High vs Gables 1965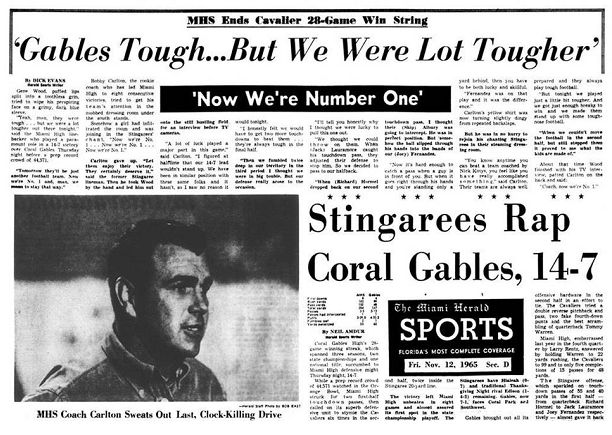 BY ANDRE C. FERNANDEZ
AND BILL VAN SMITH
Miami High and Coral Gables meet Friday night at Tropical Park in a game that likely will determine each team's playoff fate.
Half a century ago, the longtime rivals rocked the Orange Bowl in historic fashion in a game that decided much more.
Miami High edged Coral Gables 14-7 on Nov. 11, 1965, ending a 28-game win streak by the Cavaliers, the two-time defending state champions.
The Stingarees went on to a 12-0 season and their first state championship of the playoff era (which was only in its third year) and were voted mythical national champions.
"On every snap of every play in that game, you could feel the pressure," said Danny Ponce, Miami High's starting offensive guard that season. "The intensity was palpable."
The attendance that night is subject to debate.
The turnstile count was 47,554. The estimated crowd count according to Miami Herald archived articles is 48,631 — still a record for a high school football game in Florida. The next-highest-attended game since was the annual Soul Bowl between rivals Miami Jackson and Miami Northwestern in 1998 that drew 46,474 fans to the Orange Bowl.
But nearly everyone vouches that more than 50,000 saw Miami High and Coral Gables that Thursday night in 1965 as even the usually-closed-off upper decks of the Orange Bowl were nearly filled. Speculation was that many kids sneaked in, which might have been easy to do, particularly if a fellow student was manning the turnstile.
Floodgates open
Dan Finora, who is now 81 and still handles finances at Coral Gables High, was the school's business manager at the time.
"Kids can be creative in sneaking into an event," he said with a laugh. "The crowd was coming and growing, and we had to open up more gates. And at some point during the game the gates were just left open.
"Back then, the only games in town were high school football and college football. We think it is still the largest crowd in Florida high school history."
Miami High played its home games in the Orange Bowl in that era and often drew crowds of 10,000 to 15,000, and even 20,000 to 25,000 on occasion.
But this was much different.
"I remember our coaches were trying to keep us in the locker room as long as possible, but in the Orange Bowl whenever the crowd got going, you could feel the stadium shake," Ponce said. "When that crowd started jumping and stomping their feet, we felt like the stadium was going to cave in on us. When we finally ran out, we looked around and we couldn't believe how packed the place was."
Miami High, which opened in 1903, had been voted state champion numerous times in the years prior to the inception of the playoff system in 1963. State titles were voted on by a panel of sportswriters.
Coral Gables had won the first two state titles since the playoffs were introduced and had been dubbed national champions in 1964.
Each season, the Cavaliers beat Miami High in close games on their way to those championships, fueling the rivalry.
"It was a thrill for a 17-year-old kid to play in a game like that in the Orange Bowl," said Gene Wood, an All-State linebacker for the Stingarees who went on to play four years at Mississippi State. "The teams were ranked No. 1 and 2 in the state at the time. We were the ultimate rival teams."
Believe the hype
If there is anyone who knows about that 1965 game from the Coral Gables side of the field, it would be Harold Cole.
Cole, now 66, went to Gables as a student after attending Coral Gables Elementary and Ponce de Leon Junior High. Then, after receiving undergraduate and graduate degrees from the University of Miami, he returned to Gables High as a teacher and coach and also served as the school's athletic director for 25 years.
Fair to say the crimson and gray of Gables are easily his favorite colors.
And, yes, he was in the stands as a college freshman the night of that game in 1965.
"People were everywhere," Cole said. "It was packed. We will never see another high school crowd like that again. It always was a big deal when we played Miami High, and this particular game was even a bigger deal."
Cole remembers the hype that preceded Miami High-Gables in '65.
"That game was what everybody was talking about," he said. "It was being built up tremendously by TV, radio and the newspapers. Gables came in with a 28-game winning streak and was ranked No. 1 in the state and Miami High was No. 2. Everybody was talking about that upcoming game."
IN THE ORANGE BOWL WHENEVER THE CROWD GOT GOING, YOU COULD FEEL THE STADIUM SHAKE. WHEN WE FINALLY RAN OUT, WE LOOKED AROUND AND WE COULDN'T BELIEVE HOW PACKED THE PLACE WAS.
Danny Ponce, starting guard for Miami High in classic 1965 game vs. Coral Gables
Although the buildup and anticipation of the game might have been classic, the game itself might not have been.
"A defensive struggle," Cole said. "Not the greatest game, but the most meaningful game ever played here. Miami High's defense was tremendous."
Miami High gained victory when Skip Albury, a Gables defensive back who went on to play for the Florida Gators, had a pass go through his hands and Miami High's Joey Fernandez caught it for the winning touchdown.
"Albury jumped a little early," Cole recalled.
Ponce agreed on how close the outcome could have turned out.
"We had these two high-powered offenses and great defenses," said Ponce, who dislocated his shoulder while fielding an onside kick after he was speared by a Gables player on kick coverage. "Every touchdown in this game was a fluke. Jack Lauramore, who now lives in Ormond Beach, caught a pass and stumbled into the end zone for our first touchdown."
Most of the players in the game knew each other from playing in youth leagues — particularly the Coral Gables Youth Center and Southwest Boys' Club.
"It was a very heated rivalry but also a very healthy one," Cole said.
The burning question
Cole remembers that the day of the game students arrived at Gables "… and there was a huge 'M' burned into our practice field." Gables coach Nick Kotys, with proper outrage and indignation, accused Miami High, saying they had done it the previous night.
However, one needs to remember that Kotys was a consummate motivator.
"Years later it was speculated that Kotys himself had burned that 'M' into the practice field," Cole said with a smile. "Maybe he did. Maybe not. I can't say."
The game was played in an era when high school football had a different look and feel than today.
Back then, at most teams' practices, and certainly at Gables, there were no water breaks. Players could only get chips of ice from a bucket to put in their mouths. This usually took place under a punishing sun, and practices were considerably longer and harder than today.
Also, at Gables, players were not allowed to take their helmets off during practice or games.
"You would get on the bus to go to the game, and a few blocks from the stadium, Kotys would say, 'Helmets on' — and they stayed on for the entire game," Cole said. "If you looked at a picture of a Gables sideline, everybody would be wearing their helmets."
All of that was part of the discipline of the era.
Kotys, who died in 2005 at age 92, is arguably the most legendary high school football coach in Florida history. Many of Kotys' players were in outright awe of him — not to mention a little fearful.
"But I'll tell you one thing, they respected him," Cole said. "Kotys never, never said a curse word. When he was angry, he had an expression he would use — 'Cheese and crackers.' That's when you knew you had better watch out."
Immortal Stings
When Gables beat Miami High for the first time in 1956, a tombstone was introduced to the Gables locker room. Inscribed on it was, "Here Lies Miami High. Buried by Coral Gables."
Cole, an assistant football coach for 10 seasons during his tenure at Gables, recalled that for many years, "Kotys would stand on that tombstone and give his pregame speech."
In 1965, however, Miami High had the last laugh.
The Stingarees made it count weeks later, surviving a close call in a state semifinal on the road against Tampa Plant, 7-6, before throttling Melbourne 44-12 in the Orange Bowl to win the state title.
Ponce, who now lives just outside St. Augustine and has three grown children, helped start the Miami High Hall of Fame committee. He studied law at the University of Florida and practices corporate business litigation for a law firm in Miami. He was a 22-year member of the Orange Bowl committee and even chairman for a time.
Wood became a real estate appraiser after his college football days, and has turned it into a successful career the past 40-plus years.
The two are part of a graduating class of 1966 of roughly 1,100 students that have a 50-year reunion scheduled for this school year.
The hottest topic when those Stingarees reminisce about the good old days?
"We have a big website set up for our reunion and about 150 of us have joined the site so far," Ponce said. "There's a question on there about what is everyone's fondest memory? A huge portion of them have answered, 'Winning the state championship and beating Gables.' It meant a lot to a lot of people. The school was electric. We were treated like heroes.
"It was a defining moment."
Andre C. Fernandez: 305-376-4997, @AndreMHsports

Read more here: http://www.miamiherald.com/sports/high-school/prep-miami-dade/article37231029.html#storylink=cpy
---
Danny Did the following stats 50 years ago: